Watch this Inspiring 3-Minute Video Featuring the 10 Presenters for the 2018 ANP Conference 
The Architects of the New Paradigm Conference Series (ANP) brings together some of today's most accomplished visionaries to present a fresh approach to the world's critical challenges.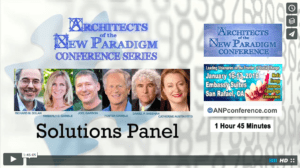 Join the ANP Announcement List now and get a Free Video
Our list is never shared. Easy unsubscribe. 3-5 emails/month
Enjoy this video from the 2017 ANP Conference featuring interviews with attendees and presenters including Foster Gamble, Nassim Haramein, and Mary Ruwart.
Watch These Recordings from the 2015 – 2016 – 2017 Conferences:
Watch These Recordings from the 2015 – 2016 – 2017 Conferences:
JEFF WARRICK- Mind Crimes of the Power Elite
FRED BURKS- A White House Insider's Report from Behind the Scenes
LORI LORENZ, MA- Psychopaths, Mind Control and Our Brains
DANIEL SHEEHAN- Worldview Paradigm Theory: An Approach to Understanding a Complex Sociopolitical Landscape
RICHARD DOLAN- Understanding False Flag Operations
KIMBERLY CARTER-GAMBLE- Passionate Intent and Unconflicted Behavior: How Daily Decisions Create the New Paradigm
JOEL GARBON- Advanced Energy Technology: The Juice of the New Paradigm?
CATHERINE AUSTIN FITTS- Power, Privacy & Transparency
FOSTER GAMBLE- Solutions Toward a Thriving World- Principles, Strategies and Tactics for the Most Critical Moment in Human History
DANIEL SHEEHAN- The Architecture of Human Worldviews- Insights and Strategies for Relating to Each Other in an Increasingly Polarized World
MARY RUWART- How We Learned the Secret of Peace and Plenty in Childhood- and Then Promptly Forgot It!
FOSTER GAMBLE- The Freedom Solution- What's Missing in the New Paradigm- An Update on Practical Breakthroughs from Thrive Movement
JOHN PERKINS- New Confessions of an Economic Hit Man- A Call to Transform Turmoil into A New Economy
JENNIFER MARGULIS- What if Our Medical Advances Are Also Our Worst Mistakes? Vaccines, Antibiotics, Hygiene and a New Paradigm for Health
NASSIM HARAMEIN- The Connected Universe- Learning to See Our World Differently Through Cutting-Edge Science