2016 Architects of the New Paradigm Conference
San Rafael, CA – January 16-17, 2016
Stream Videos or Order DVDs HERE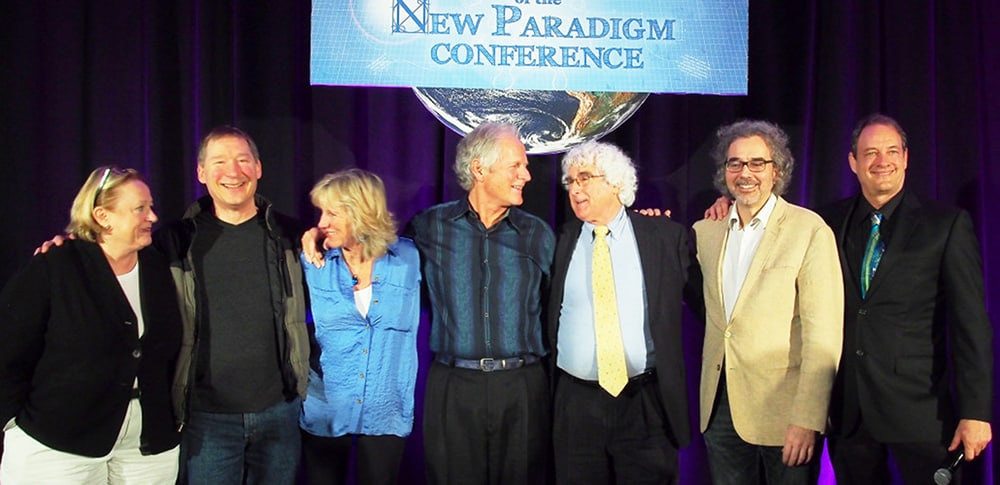 2016 ANP Conference Speakers:
Stream Videos or Order DVDs HERE
Renown author and historian Richard M. Dolan has published four books and numerous articles on anomalous phenomena, suppressed science, secret space programs, breakaway civilizations, the intelligence community and similar important issues. He is widely regarded as a leading researcher and historian on the topic of the UFO cover-up and related subjects. Prior to his interest in unusual phenomena, he studied US Cold War strategy, Soviet history, and international diplomacy.
Richard is the author of two volumes of history, UFOs and the National Security State volumes one and two, regarded as the seminal treatments on the subject, as well as an analysis of the future, A.D. After Disclosure: When the Government Finally Reveals the Truth About Alien Contact. More recently he published UFOs for the 21st Century Mind, a comprehensive and fresh guide to the entire subject of UFOs.
Richard is nearing completion of another ground-breaking book, A History of False Flag Operations, which explains one of the most pernicious developments of our time: how clandestine agencies secretly engage in violence and destruction in order to promote their agendas. This book not only details the many false flags that have shaped our world (such as 9/11), but will help readers understand why we live in an era of false flags today, and how to recognize them when they happen in the future.
Richard was born in Brooklyn, New York in 1962. He grew up in Brentwood, Long Island, playing baseball and studying science and history. He earned a Bachelor's degree in History and English Literature at Alfred University, then earned a Master's degree in History at the University of Rochester. He also received a Certificate in Political Ideologies from Exeter College at Oxford University, and was a finalist for a Rhodes Scholarship.
He is a regular guest on Coast-to-Coast AM radio, and has appeared on many television specials for History Channel, SyFy Channel, BBC, among many others. In 2003, he was a founding member of Phenomena, a magazine dedicated to leading edge issues pertaining to science and society. Since 2012, Richard has hosted The Richard Dolan Show, airing on KGRA Radio every Monday evening, from 8-10 pm EST.
Lecture: Understanding False Flag Operations in Our Time
Globalization and technological change have led to an unprecedented level of propaganda and deception in our world. Now, in the 21st century, the United States is attempting to finalize unrivaled control over the resources of the world, especially over oil- and gas-rich regions, via regime change and other covert means. In addition, the transformation of global power over the past several decades has led to an increasingly restive population that (in the opinion of those who rule), needs to be controlled.
As a result, we are now faced with a sophisticated propaganda system that includes not only domination over mainstream media, but infiltration of social media, entrapment operations, and many other provocations. It also includes the ultimate weapon in the propaganda tool kit: the false flag. Simply put, a false flag is an act of deception designed to elicit fear or anger from a target audience (that usually means you), with the aim of justifying actions (wars, repressive laws, etc.) that could never otherwise be justified,. And of course, something which is blamed on another party. These days, that often means "terrorists" or certain nations.
Historian Richard Dolan will explain why we live in an era of false flags, and will describe some of the most important false flags that have shaped our world–in previous generations as well as today. He will describe how false flags are possible, why they are psychologically effective, how they have evolved over the years to become sophisticated and diverse operations–not always targeted against nations, but often against populations, and sometimes against specific individuals.
Moreover, Richard will provide an analytical framework to help us identify specific elements of false flags, enabling us to spot them more easily in the future.
Kimberly Carter Gamble is the Producer, Director, and Co-Writer of the globally-acclaimed movie THRIVE: What on Earth will it Take?. It is now in 27 languages and has more than 34 million documented views. Kimberly is a former journalist, including for Newsweek International; founder of a nation-wide program for homeless teens, and is currently CEO of Thrive Movement International.
Lecture: Passionate Intent and Unconflicted Behavior: How Daily Decisions Create the New Paradigm
Kimberly brings a practical personal approach to unpacking what it takes to manifest our vision. What exactly is it we are after? How do we make personal daily decisions that support what we say we want? How does the group reality we are immersed in limit or support our highest personal expression? What do we need to understand about the old paradigm to be sure we don't fall prey to its limitations again? What do reason, intuition, passion, and courage have to do with rendering the old paradigm obsolete? And how do we stay grounded in the knowledge that we are powerful enough to pull it off?
Sunday Workshop:
Based on my belief that living the new paradigm is a process more than an outcome, and that the process is manifest through personal daily decisions and actions, we are going to focus on increasing the percentage of unconflicted behavior in each of our lives. Does our behavior express our values and what is the debate inside our heads when we weigh the impact of our actions?
In breakout groups and dialogue with each other, we will explore personal examples, tools, insights and strategies for moving what we understand in our minds into our hearts and out into action, one personal decision at a time.
Joel Garbon brings the perspective of a scientist and inventor to the ANP Conference. He is co-founder and President of The New Energy Movement, an Oregon-based nonprofit organization that educates about breakthrough energy technologies and their implications for human society and our imperiled planet. NEM is also an advocate organization for inventors of these technologies.
He is the author of an historic legislative draft titled Energy Innovation Act of 2007 which serves as a template for new energy legislation on the federal, state, local, and international levels.  The legislation's provisions call for urgent and serious public support for research and development of breakthrough energy technologies, and was presented to senators and representatives in the United States Congress.
Joel also co-authored BREAKTHROUGH POWER: How Quantum-Leap New Energy Inventions Can Transform Our World with investigative journalist Jeane Manning. This award-winning book chronicles the challenges, opportunities, and progress in the new energy technology field. The authors make the appeal for a "tidal wave of wisdom" and the concurrent evolution of energy technology and human consciousness as foundations for a new era on planet Earth.
Joel received a Bachelor of Science degree in Applied Science from Miami University, Oxford, Ohio. He has worked for more than 30 years as an international industrial science consultant and educator within the chemical, pulp and paper, and water treatment industries. He is the inventor and developer of several successful commercial technologies used within these industries.
Lecture: Advanced Energy Technology: The Juice of the New Paradigm?
The anticipated global transformation includes the dawning of a "New Energy Era" that would be heralded by the disclosure, dissemination, and widespread deployment of advanced clean energy technologies. What would be the implications of such a revolution? Is our civilization ready for it?
This presentation by the co-author of the award-winning book Breakthrough Power: How Quantum-Leap New Energy Inventions Can Transform Our World provides a behind-the-scenes look at amazing advances in energy technology and offers thoughtful insights on the challenges and promise of the new "juice" for the coming age.
Foster Gamble brings his experience as a visionary on the leading-edge of social change to the ANP Conference. He is the Co-Creator, Co-Host, Co-Writer, and Director of Visual Design for the movie THRIVE: What on Earth will it Take?.
At age 14, Foster had a vision where he glimpsed what he perceived to be the Universe's fundamental energy pattern. He spent the next 35 years trying to figure out the details and implications of what he had seen. That quest took two paths: a scientific journey and an exploration of the human potential to navigate successfully through the challenges threatening our survival. THRIVE represents the convergence of these two paths.
Furthering his exploration of what was keeping humanity from thriving, Foster spent nearly a decade "following the money" in every sector of human endeavor. The process revealed an understanding of our predicament that led him to create the strategic solutions offered in his film THRIVE.
Foster's exploration of "living geometry" – how nature builds the "material" world, came to fruition in 1997 when he co-convened the Sequoia Symposium, a multi-disciplinary scientific think tank exploring perspectives on "Unification Theory." There, the primary toroidal patterning that the universe uses to sustain healthy systems was clarified and cohered, as was its use as a blueprint for us to design sustainable, whole-systems technologies and social systems. This discovery represents the convergence of science and the evolution of consciousness that Foster set out to explore after his initial vision, and is the "code" for solutions in every sector as featured in the documentary film THRIVE, and on the companion website.
Lecture: Solutions Toward a Thriving World- Principles, Strategies and Tactics for the Most Critical Moment in Human History
From peaceful parenting to real economics and true education – from New Energy to growing whole food and living in universal freedom – Foster claims that the Master Key to solving virtually every one of the critical issues facing humanity seems to be recognizing, restoring and stewarding the (toroidal) wholeness of natural systems.
Foster will share examples from various Sectors of the best breakthrough applications that the Thrive Movement has found through their research and involvement with hundreds of inventors and innovators, as well as over a thousand self-created action groups in the global Thrive solutions network.
He will explore – with the audience:
"If we are each to be "architects of the new paradigm," what is that new paradigm?"
And:
"What are the compass and tools by which we can alter the moral course of humanity on Spaceship Earth and create ways of living where everyone has the opportunity to thrive?"
Daniel P. Sheehan is a pioneering thinker and educator in many areas of social psychology and paradigm theory; and he brings his cutting-edge insights to inspire the ANP Conference participants.
He is a Harvard-educated constitutional lawyer and social ethics scholar involved with many significant and high-profile civil rights and social justice cases during the last 40 years. Mr. Sheehan's long and impressive resume includes work on important issues such as women's rights, nuclear industry regulation, Native Peoples rights, education, and government accountability.
Mr. Sheehan has a long and distinguished history as chief counsel in milestone cases such as the Nixon Pentagon Papers, The Iran-Contra Affair, Karen Silkwood and the Three Mile Island Nuclear Disaster. He is the 20-year President and Chief Counsel of the Washington, D.C.-based Christic Institute and served as the Director of The Strategic Initiative to Identify The New Paradigm project of the Gorbachev Institute's State Of The World Forum. He is currently the President of the New Paradigm Institute and Director of the Lakota Peoples' law project.
Lecture: Worldview Paradigm Theory- An Approach to Understanding a Complex Sociopolitical Landscape
An introduction to a method for identifying and defining a paradigm or "world-view", and the role that paradigms play in enabling a person to recognize and develop effective solutions to global, regional, national, or local public policy problems. This presentation will include an explanation of the component beliefs of a truly integrated worldview or paradigm.
Examples of worldview paradigms: "The Authoritarian Paradigm" of Julius Caesar; Benito Mussolini or Genghis Kahn, "The Reactionary Paradigm" of Adolph Hitler; Joseph Stalin; Joseph McCarthy or Richard Cheney, "The Conservative Paradigm" of leaders like a Dwight D. Eisenhower; Mitt Romney or Sam Nun, "The Moderate Paradigm" of leaders like Joe Lieberman; James Webb and Bill & Hillary Clinton, "The Liberal Paradigm" of leaders like Jimmy Carter; Ted Kennedy and John Edwards, and "The Progressive Paradigm" of leaders like Senator Bernie Sanders; Russ Feingold and Dennis Kucinich.
In his Sunday intensive; Daniel will address the distinctive component beliefs of the "Utopian" (or "Spiritual") worldview of leaders like Pope Francis; the Dali Lama; the Buddha; Jesus of Nazareth and other traditional religious leaders. He will then introduce the potential "New Paradigm Worldview", identifying the causes and the need for such a new worldview to supplement (or, to potentially replace) many – or ALL – of the "Traditional" worldviews (or "OLD" Paradigms). He will discuss interactively with the audience the dynamics at play within our Western and Global Culture which are generating the new specific beliefs of such a new worldview.
As a former high-level government insider, Catherine Austin Fitts brings her unique perspective to the ANP Conference on the global financial system and the political economy. She is the president of Solari, Inc., publisher of the Solari Report, and managing member of Solari Investment Advisory Services, LLC.
Catherine served as managing director and member of the board of directors of the Wall Street investment bank Dillon, Read & Co. Inc., as Assistant Secretary of Housing and Federal Housing Commissioner at the United States Department of Housing and Urban Development in the first Bush Administration, and was the president of Hamilton Securities Group, Inc.
Catherine has designed and closed over $25 billion of transactions and investments to-date, has led portfolio strategy for $300 billion of financial assets and liabilities and has participated in the private and public workout and turn around of billions in mortgage, real estate and banking fraud.
Through Solari, Inc., Catherine and her colleague publish The Solari Report, a weekly briefing, Solari Audio Seminars and Catherine's blog focused on financial markets and preserving family wealth. Catherine provides investment advisory services through Solari Investment Advisory Services, LLC.
Catherine graduated from the University of Pennsylvania (BA), the Wharton School (MBA) and studied Mandarin Chinese at the Chinese University of Hong Kong.
Her numerous speaking engagements and media appearances include Breakthrough Energy Movement, Secret Space Program Conference, USA Watchdog, Coast to Coast AM and Global Research TV.
Lecture: Power, Privacy & Transparency
JR Ewing, mythic oil man of America's popular TV show Dallas, once said to his baby brother Bobbie, "Boy, no one gives you power, you take it." As we seek to evolve our civilization to something that is, in fact, civilized, an important question before us is "how?" How do we gather the power to implement real, lasting and positive improvements.  Catherine will address practical opportunities and issues for gathering power to understand our world and evolve solutions.
George Noory, host of the nationally syndicated program, Coast to Coast AM, says if he weren't a national radio talk show host he'd be in politics. Heard by millions of listeners, Coast To Coast AM airs on approximately 564 stations in the U.S., Canada, Mexico and Guam.
While hosting The Nighthawk, a wildly successful, late-night program on KTRS in St. Louis, Noory was recruited by Premiere Radio Networks to guest host on Coast to Coast AM with Art Bell.  He became the permanent host of the phenomenally successful over-night program on January 1, 2003, following Bell's retirement.  Since then, Noory's audience has continued to grow. READ MORE
Special Guest Moderator: Saturday Night Audience Q&A Panel
Meet George Noory and his producer Tom Danheiser in person at the Saturday evening Cocktail Mixer
Day One: SATURDAY January 16
SATURDAY
 
7:00
Registration Desk Open
8:00
Doors Open
8:30
Welcome & Introduction
9:00
Daniel Sheehan"Worldview Paradigm Theory- An Approach to Understanding a Complex Sociopolitical Landscape"
10:00
Richard Dolan"Understanding False Flag Operations in Our Time"
11:00
Kimberly Carter-Gamble"Passionate Intent and Unconflicted Behavior: How Daily Decisions Create the New Paradigm"
12:00
LUNCH BREAK
1:30
Joel Garbon"Advanced Energy Technology: The Juice of the New Paradigm?"
2:30
Catherine Austin Fitts"Power, Privacy & Transparency"
3:30
Foster Gamble"Solutions Toward a Thriving World- Principles, Strategies and Tactics for the Most Critical Moment in Human History"
4:30
DINNER & NETWORKING UNTIL 7:30pm
5:00
Meet & Greet the Speakers Cocktail Mixer (FULL-ATTENDANCE TICKET REQUIRED)Foster Gamble, Richard Dolan, Kimberly C. Gamble, Joel Garbon, Catherine Austin Fitts, Daniel Sheehan and Ron James.
SPECIAL GUESTS: George Noory and Tom Danheiser from Coast to Coast AM Radio
7:30
Audience Questions Panel- Moderated by George Noory
9:30
DAY ONE ENDS
Day Two: SUNDAY January 17
SUNDAY
Break-Out Room 1
Break-Out Room 2
8:30
DOORS OPEN
9:00
Catherine Austin Fitts INTENSIVE WORKSHOP

Richard Dolan INTENSIVE WORKSHOP
10:45
Kimberly Carter-Gamble INTENSIVE WORKSHOP
Joel Garbon INTENSIVE WORKSHOP
12:15
LUNCH
1:30
Foster Gamble INTENSIVE WORKSHOP
Daniel Sheehan INTENSIVE WORKSHOP
3:15
Solutions Panel All Six Speakers, Moderated by Ron James
5:00
DAY TWO ENDS