Southern Oregon Human Trafficking Disruptors Summit
2525 Ashland St., Ashland, OR • (855) 482-8310 • Page Updated 27NOV23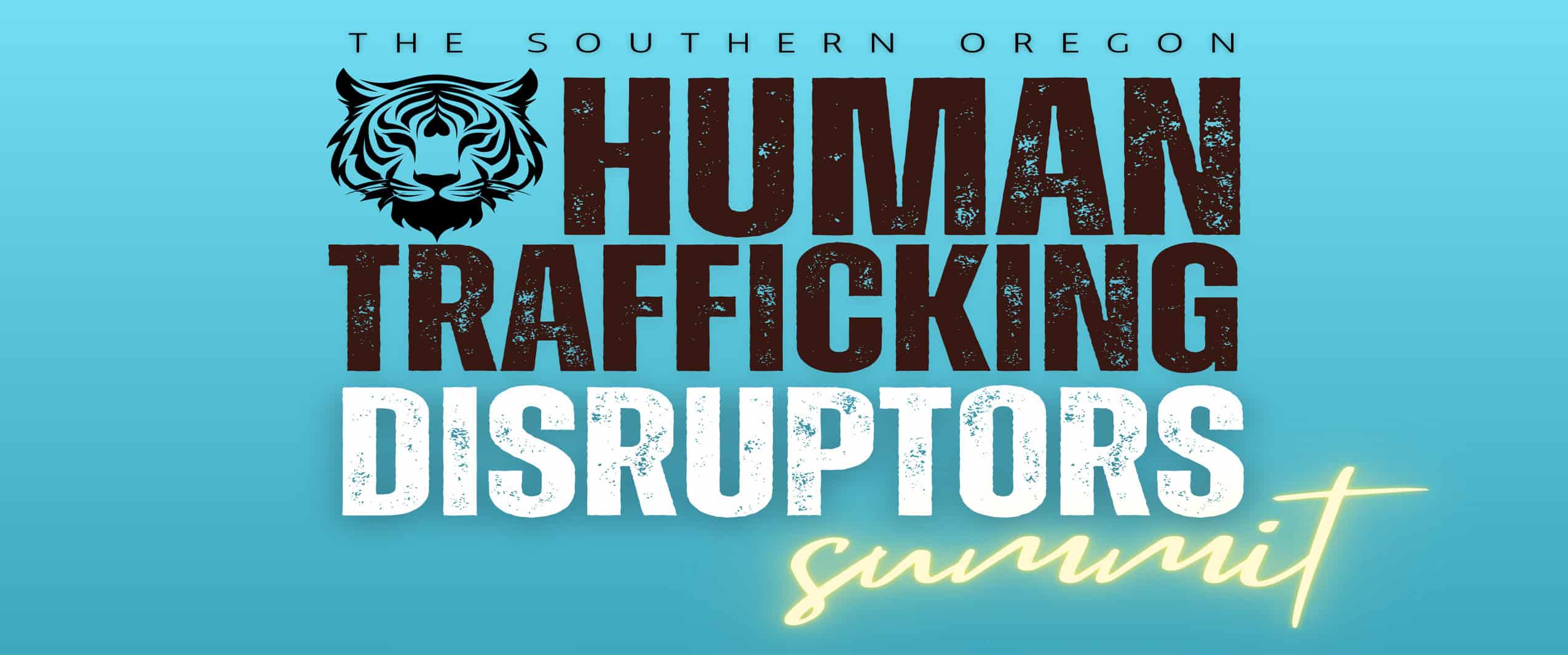 Friday-Saturday, March 22-23, 2024 • Ashland, Oregon
$75 Early Registration

•

Save $50 • Two

Lunches Included
Get Updates. Easy Unsubscribe. List is Never Shared.
LEARN FROM WORLD-CLASS PRESENTERS & TOP LEADERS IN THE GLOBAL ANTI-TRAFFICKING MOVEMENT
Did you know? Over 20 million people are trafficked around the world at any moment in time. Southern Oregon is a hotspot in the nation for labor and sex trafficking. How it happens might surprise you. Less than 5% of trafficking cases in the United States result from kidnapping or abductions.
This two-day educational and networking summit is for anyone interested in gaining a better understanding of the realities of human trafficking in our region. From start to finish, learn tools and skills to identify what trafficking looks like, and discover surprising solutions to help keep our communities safe.
Areas of Focus: Human Trafficking 101 • Familial Trafficking • Labor Trafficking • Sex Trafficking • Online Exploitation • Avenues of Victimization • Self Care • Demand Reduction • Presentations by Local Agencies Providing Services, and More!
MORE PRESENTERS AND INFO COMING SOON
Presented by: Architects of the New Paradigm Conference Series, RVML Community Resource Center, and Ride My Road, in collaboration with Jackson County Coalition Against Sex Trafficking. Ticket price includes lunch each day. Group rates, exhibitor tables, and sponsorship opportunities are available. Please Email Us for more information.
Confirmed Presenters
Updated October 29, 2023
Christine Cesa is a graduate of Fuller Theological Seminary with a Masters in Intercultural Studies with Children at Risk and a Bachelor of Science in Education from Ashland University. Christine has served as the Services Coordinator with the Avery Center. Additionally, she has served as the Survivor Advocate with CAST LA and Dignity Health responding to survivors of human trafficking in the healthcare system, providing emergency services and advocacy to patients. Christine is a subject matter expert with specific expertise in familial trafficking. Furthermore, she currently serves as a consultant with the Office for Victims of Crime and the State Department. In addition, she serves on the Board of Ride My Road and the Resilience Fund with Polaris Project. Highlights included being published author on TIP report in 2021, Navigating the Unique Challenges In Familial Trafficking, 2023 TIP report, Equity In Survivor Leadership, and one of the co-authors in an anthology, "Medical Perspectives in Human Trafficking In Adolescents". Christine has trained numerous healthcare systems and spoken at conferences such as National Conference on Ending Sexual Exploitation, GRIT, Crimes Against Women, JUST, Build Beyond, and other similar presentations.
As Director of Programs at Epik Project, Justin Euteneier equips male civilians in the US to speak directly to sex buyers at the point of sale, disrupt cultural acceptance of exploitation, and seek areas of our lives as men where we can work towards creating an equitable and flourishing culture. Justin holds a Master's Graduate Degree in Social Justice from Kilns College, has presented at MIT Counter Human Trafficking Workshop, and has 10+ years working in the anti-human trafficking movement. At Epik Project, Justin has designed and built an innovative buyer engagement platform that has led to over 200,000 purchase attempts from 100,000 buyers in the US utilizing all-male volunteer efforts.
Tomas Perez began engaging in the anti-trafficking fight in 2010 and quickly noticed that while men are the primary drivers behind the demand that drives sex trafficking, very few were practically involved in effective efforts to abolish it. His vision to create meaningful onramps for men to engage in this issue has resulted in the training, equipping, and support of hundreds of volunteer men across 20 cities in North America. Tom is an active member of several local and national collaborative efforts to eradicate commercial sexual exploitation. Tom also serves as the demand reduction specialist on the Oregon Attorney General's Trafficking Advisory Committee. He previously led a multidisciplinary team of law enforcement, prosecution, business, and faith communities as the head of the demand subcommittee for the Multnomah Co. Commercial Sexual Exploitation of Children or "CSEC" Executive Team. Tom has presented both locally and nationally on the centrality of equipping male allies and focusing on demand reduction as a critical component to any strategy serious about combating sex trafficking. These presentations include The National Advisory Committee on the Sex Trafficking of Youth and the United Nations Global Council on the Status of Women.
Katrina "Tina" Taylor-Sims carries on the legacy of her grandmother, the late Agnes Baker-Pilgrim, and her late father, Keith Taylor, a member of the Confederated Tribes of Siletz in Oregon. For over a decade, Tina has dedicated herself to eradicating human trafficking through education, awareness, and empowering survivors.
Currently the Awareness Director at EPI in Humboldt County, CA- Tina runs a local trafficking hotline a drop-in center for survivors and implements prevention education programs. She has worked directly with tribal youth and local high schools to share curriculums on recognizing the signs of trafficking. Tina also trains police, first responders, and community members on identifying and responding appropriately to human trafficking situations.
As a lived experience expert, Tina shares her own story with profound wisdom and sincerity. She inspires others with her unshakable belief that connecting to one's culture provides strength and resilience. Tina's passion for this work emanates from a place of service to both her ancestral community and exploitation survivors.
Lauren Trantham
 is the Founder and Executive Director of Ride My Road, a national anti-human trafficking organization founded in 2016. As a photographer, Lauren has had the honor of photographing over 80 American survivors of human trafficking. In addition to hosting events across the country, Ride My Road has raised hundreds of thousands of dollars to support survivors to reclaim their lives.
Through their online platform Disruptors University, Ride My Road also provides online education for everyday people to learn about the realities of Human Trafficking in The United States. With a focus on Survivor Leadership and community outreach, Ride My Road envisions a world free from exploitation.
Rosa Van Gordon is a trafficking confidential advocate with Community Works in Medford, Oregon, with a background in advocating for children and their families who have been abused. Through coordination of the Jackson County Coalition Against Sex Trafficking Task Force, Rosa strives to build a community that is educated on what trafficking looks like, empathetic for the survivors of trafficking, and inspired to get involved in the anti-trafficking movement.
MORE PRESENTERS & INFO COMING SOON
Fri-Sat, March 22-23, 2024
Ashland Hills Hotel
$75 Early Registration

•

Save $50
Two

Lunches Included

• Book Now!
SEE ALSO: The Southern Oregon
Homelessness Summit
February 3, 2024 • Ashland, OR

Presented by ANP Conference
And O.H.R.A.
LEARN MORE
Get Updates. Easy Unsubscribe. List is Never Shared.
VENUE/HOTEL
2525 Ashland St. (Hwy. 66), Ashland, OR
I-5 Exit 14 • GOOGLE MAP • (855) 482-8310