7th-Annual ANP Conference:
Accessing Advanced States of Creativity and Innovation
BECOME A SPONSOR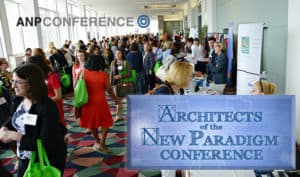 The Architects of the New Paradigm Conference Series brings together some of the most accomplished leading visionaries to present a fresh approach to accessing the creative genius we all have. With new perspectives and ideas, participants are better-equipped to approach the challenges our world has with renewed creativity and innovation skills.
The format of ANP Conferences is distinct from other events. It's focused, immersive and intimate format supports a greater sense of community and fosters personal connection. Three meals are included in the registration fee to provide ample opportunity to connect with the other attendees, the sponsors and the vendors. READ MORE
ANP Conferences attract 250-500+ participants. The capacity of the 2021 venue is 400 and we expect to sell out. There is no charge to enter the vendor area, and non-conference attendees are also welcome (hotel guests and restaurant patrons, etc.)
If you or your business is aligned with our vision and principles, please consider applying to become a sponsor.
APPLICATION DEADLINE: Friday, Feb.5, 2021
Sponsorship Benefits
       ALL CATEGORIES RECEIVE EACH OF THESE BENEFITS:
Website URL, Business Logo and Business Description Posted on the ANP Website and Printed in the Event Program.
Banner in Lobby Area (Up to 8' Wide, Provided by Sponsor)
Logo Included in Promotional Emails
Table or Booth Space in Vendor or Dining Area
2 Guest Passes
Additional Benefits: Select One or More Levels Below
Promotional Partner and In-Kind Sponsorships also available, please inquire.
SPONSORSHIP TYPE
LOGO & BUSINESS INFO
TASTING & SAMPLING
VENDOR SPACE
LUNCH
$1000/day


2 Available


(Or $1750 both days)
Placard on Each Table in Dining Area During Lunch
Space in Dining Area During Lunch for Sampling
Table
COCKTAIL PARTY & DINNER $1200


3 Available


(1 Ea.; Beer, Wine, Spirits)
Placard on Each Table in Dining Area During Party & Dinner
Space in Party/Dining Area During Party for Tastings (60 Min.)
Table
COFFEE/TEA
$750/day


2 Available




(Or $1250 both days)

Placard on Coffee/Service Tables
N/A
Table
ATTENDEE GIFT BAG
$1500
1 Available
Logo Prominently Displayed on One Side of Bag
N/A
Table or Booth
EVENT PROGRAM
$1500
1 Available
Full Page Graphic on Inside Front Cover of Program
N/A
Table or Booth
SUPPORTER
$25-500
50 Available
Name Listed in Event Program and on ANP Website Only. Excludes Sponsor benefits listed above
N/A
N/A
To become a Sponsor, please submit the application form and our Sponsorship Coordinator will be in touch with you shortly.
More Information: registration@anpconference.com (541) 552-9119 (Tue-Sat 10am-6pm PST)
Yes! I Would Like to Become a Sponsor of ANP's 6th-Annual Conference: