7th-Annual ANP Conference:
Accessing Advanced States of Creativity and Innovation
BECOME A VENDOR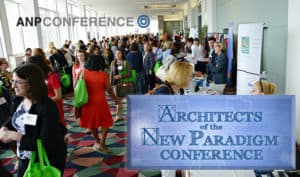 ANP Conference is offering an opportunity for selected vendors to help support our audience and our mission at our sixth-annual Conference. This is a great chance to participate in a win-­win and share your products or services with our informed and forward-thinking audience.
ANP Conferences attract 250-500+ participants. The capacity of the 2020 venue is 400 and we expect to sell out. There is no charge to enter the vendor area, and non-conference attendees are also welcome (hotel guests and restaurant patrons, etc.) Vendor area is limited to 20 vendors.
We invite authors, practitioners, artists, entrepreneurs and organizations who have information, products or services to share or sell that enhances or reflects our theme, Mind Gaming: Accessing Advanced States of Creativity & Innovation. Examples: nutritional products, healing therapies and devices, artwork, books, CD's & DVD's, boutique clothing, jewelry and more.
DATES: March 20-21, 2021
Saturday 7:30am-9:30pm & Sunday 8:30 am-6:30pm
LOCATION: Embassy Suites Hotel and Conference Center, in Bellevue, WA, directly off I-90, 17 miles from SeaTac Airport.
The Architects of the New Paradigm Conference Series brings together some of the most accomplished leading visionaries to present a fresh approach to accessing the creative genius we all have. With new perspectives and ideas, participants are better-equipped to approach the challenges our world has with renewed creativity and innovation skills.
The format of ANP Conferences is distinct from other events. It's focused, immersive and intimate format supports a greater sense of community and fosters personal connection. READ MORE
INVESTMENT:
$175 – 6' Table, 2 Chairs
$275 – Premium Booth, up to 8'x8', 2 chairs, plus 1 to 3 Six-foot Tables
SUPPLIED:
-One 72" x 30" table, draped and skirted, 2 chairs and Wifi access. (110-volt electrical power available by request.) All signage must be free-standing, hung on your table and/or from a stand supplied by you. Pipe and drape available by separate arrangement with the hotel.
-A high-visibility location in the main lobby of hotel/conference room. The buffet lunch and Meet-the-speaker cocktail party will also be held in this area. Lobby open to the public.
-A description and picture/logo will be included in the Event Program that is distributed to all attendees at the event as well as the ANP website.
-One 2-day Vendor Pass. Up to two assistants for the discounted price of $125 each.
Saturday and Sunday buffet lunch may be added for an additional $35/day.
Saturday Dinner buffet may be added for an additional $45 per person.
If you or your business is aligned with our vision and principles, please consider applying to become a vendor.
Make Payment by PayPal at the Bottom of this Page – APPLICATION DEADLINE: Friday, March 5, 2021
To become a vendor; please complete the form below, submit payment using the Shopping Cart below the form, and our Event Coordinator will be in touch with you shortly to confirm.
More Information: registration@anpconference.com (541) 552-9119 (Tue-Sat 10am-6pm PST)
Yes! I Would Like to Become a Vendor of ANP's 6th-Annual Conference:
Please Continue to PayPal to Submit Payment
Step 1: Choose Table or Booth
Step 2: Click "Add to Cart"
Step 3: Click "Continue Shopping" in Cart
To Add Meals and/or Assistants.
For Assistance Contact registration@anpconference.com (541) 552-9119 (Tue-Sat 10am-6pm PST)