Southern Oregon Homelessness Summit
2525 Ashland St., Ashland, OR • (855) 482-8310 • Page Updated 28NOV23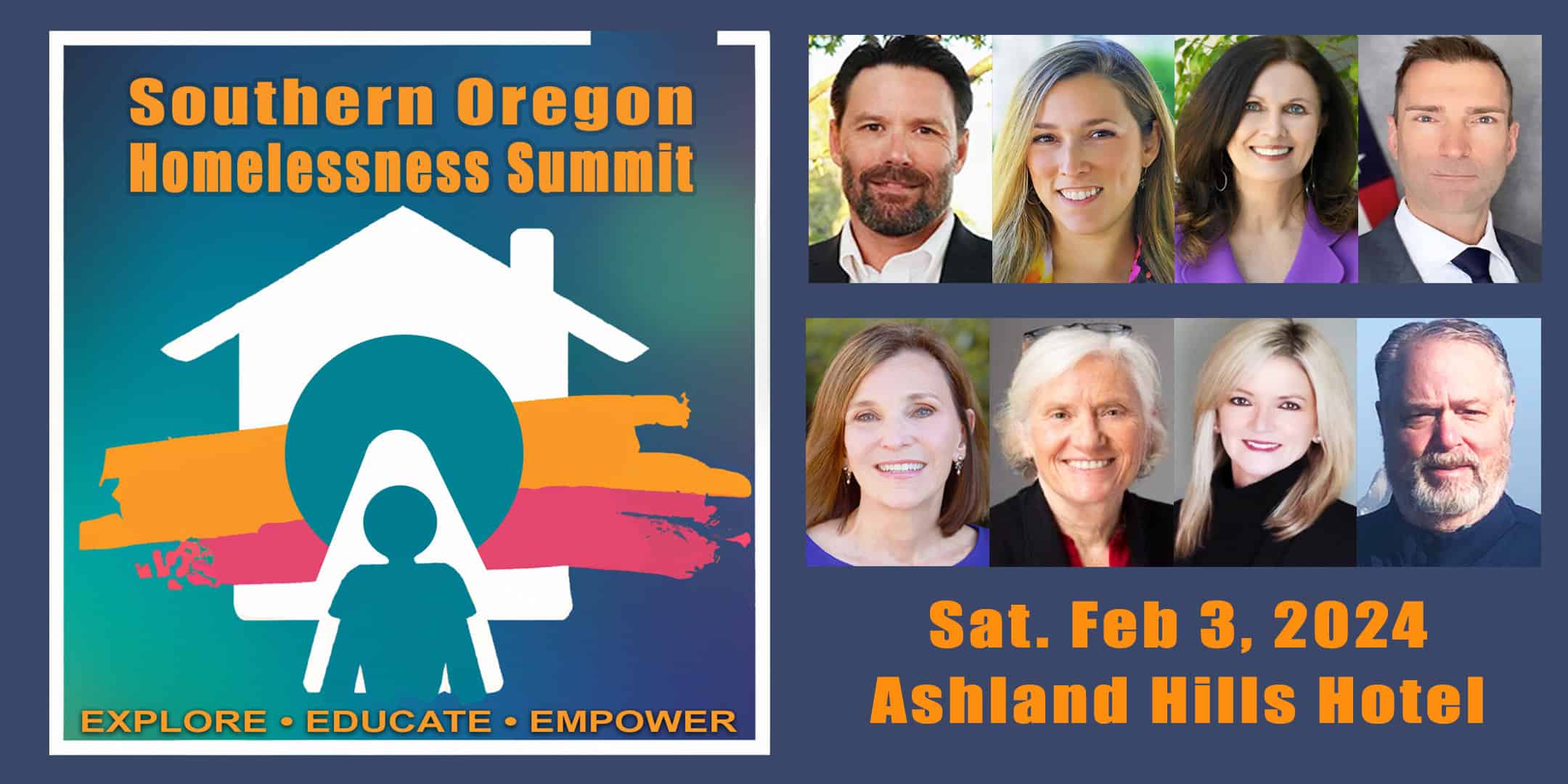 Jason Elzy, Mary Ferrell, Libby Gill, Bryan Guiney, Barbara Johnson, Rep. Pam Marsh, Cass Sinclair & Dennis Slattery. MORE PRESENTERS ANNOUNCED SOON
Saturday, Feb. 3, 2024, 10am – 4pm • Ashland, Oregon
$25 Early Registration • Includes Lunch • Reserve Your Seat Now!

 
Get Updates. Easy Unsubscribe. List is Never Shared.
LEARN FROM TOP LEADERS AT THE FEDERAL, STATE & LOCAL LEVELS
The 2024 Southern Oregon Homelessness Summit is an opportunity to dive deep and explore the growing challenges and proven solutions to issues surrounding homelessness.
Everyone is welcome to attend this low-cost, day-long intensive summit. Seasoned professionals employed by agencies addressing the challenges, to ordinary, caring citizens who feel compassion for their fellow community members are invited to network and become better informed about the various and interconnected issues.
Jason Elzy, Mary Ferrell, Libby Gill, Bryan Guiney, Barbara Johnson, Rep. Pam Marsh,
Cass Sinclair & Dennis Slattery.

MORE PRESENTERS ANNOUNCED SOON

Get inspired and learn from these presenters from the Federal, State and local levels about the causes of homelessness, from a lack of affordable housing, income disparities, health issues, domestic violence, and racial inequalities. 
Many people hold stereotypes of what they think homelessness is, but it's a complex issue that is multifaceted and requires study to truly understand and to learn ways to diligently apply solutions. People of all backgrounds across the country are struggling with housing costs that have far outpaced wage growth. Many homeless families and individuals remain unseen.
Moreover, certain populations are at greater risk of homelessness due to factors such as historical inequities, veterans, low-income workers, people of color, LGBTQI+ Americans, people with disabilities, older adults, and people with criminal records. They have fewer opportunities to access safe, affordable housing and health care and face more barriers to fulfilling these basic needs once they lose them.
What do we need to know? What can we do as a community and as individuals to help prevent and end homelessness?
KEY UNDERSTANDING: THE HOMELESSNESS CRISIS IS FUNDAMENTALLY A HOUSING CRISIS
Presented by: Architects of the New Paradigm Conference Series, OHRA; Opportunities for Housing, Resources and Assistance, and RVML Community Resource Center in collaboration with the Housing Authority of Jackson County. Ticket price includes lunch. Exhibitor tables and sponsorship opportunities are available. Please Email Us for more information.
Confirmed Presenters
AS OF 25NOV23
Jason Elzy is the Executive Director of the Housing Authority of Jackson County. Over the past two decades, Jason and the Housing Authority team have worked to grow the agency into the largest developer of multifamily-residential housing in Southern Oregon. Jason presently serves on multiple boards and committees including Jackson Care Connect,  Jackson County Continuum of Care, Housing Authorities of Oregon, Medford Housing Advisory Committee, and the Grants Pass Housing Advisory Committee.
Mary Ferrell is the founder and Executive Director of Maslow Project. Born and raised in Medford, Oregon, Mary graduated from Southern Oregon University and began working with homeless children and families through the Medford School District in 2000. After working directly with homeless children and families for several years, Mary saw the need for a "youth-centric" one-stop resource center where kids and families could quickly and easily access essential needs and support services all in one location. Mary started Maslow Project as a grassroots effort in 2006 and founded it as a nonprofit organization officially in 2009. Maslow Project has since received national recognition for its program model serving homeless youth and has been featured internationally in media outlets such as New York Times, BBC, and 20/20. Maslow Project has gained national and international attention and received numerous awards for outstanding service and community impact.
Mary is an American Leadership Senior Fellow and has served on numerous boards and initiatives addressing housing, children and family services, and civil rights. Mary is currently a Governor appointed member serving on the Oregon Housing Stability Council.
Libby Gill and her husband relocated to Medford, Oregon in August, 2021 after many years of living in Los Angeles. She is the founder and president of Libby Gill & Company, a leadership coaching and consulting firm. Her clients include Bank of America, Disney, Honda, Microsoft, PayPal, Rogue Credit Union, Sony, The Human Bean, Women's Leadership Conference of Rogue Valley and many more.
Libby is an international speaker and an award-winning author of six non-fiction books, including You Unstuck and The Hope-Driven Leader, with her debut novel to be published by Penguin Random House in May, 2024. Prior to founding her company in 2000, she was the head of public relations and corporate communications for Sony, Universal, and Turner Broadcasting. Libby is the former Vice Chair of Didi Hirsch Mental Health Services, the first and largest suicide prevention center in the country. With a deep commitment to serving people experiencing homelessness and mental illness, Libby is delighted to be a member of the OHRA Board. In her free time, Libby enjoys gardening and attempting to learn golf.
Bryan Guiney, MBA is the U.S. Department of Housing and Urban Development (HUD) Field Office Director for Oregon.  In this capacity he serves as HUD's liaison to mayors, city managers, elected representatives, state and local officials, members of Congress, private and non-profit developers, stakeholders, and customers. Additionally, he works with each of the Department's program areas to ensure departmental initiatives are implemented within Oregon. The HUD Oregon Field Office has approximately 47 employees who oversee public housing, community planning and development, fair housing, and multifamily programs throughout the state.
Prior to assuming duties as Field Office Director, he served as the HUD grants Director serving Oregon and Idaho. Prior to joining HUD, he served as an Economic Development Officer for the State of Oregon and a Committee Administrator for the Oregon Legislature. Bryan recently retired from the United States Marine Corps after 21 years of active and reserve service as an Infantry Officer and enlisted Combat Engineer. Bryan holds a B.A. from the University of Oregon and Master of Business Administration from the University of Washington.
Barbara Johnson is the Executive Director of Community Works. Barbara became involved with Community Works as a volunteer, serving in an advisory capacity and then on the Board of Directors. Following the end of her six-year term, she joined the agency as Program Director for Advocacy Services. In 2016, Barbara was promoted to Executive Director.
She loves gardening, reading, and sharing dinners with family and friends. She has dedicated herself to Community Works because she believes everyone deserves an opportunity to be safe and live with hope. Barbara says, "Our clients are courageous and resilient. They give me the passion and energy to do more, each and every day. It is inspiring to be a part of their journey to hope and healing."
Representative Pam Marsh was first elected to House District 5 in southern Oregon in November 2016. Pam is currently serving as Chair of the House Committee On Energy and Environment, and Vice-Chair of the House Special Committee On Wildfire Recovery. She also serves as a member of the House Committee On Agriculture and Natural Resources, House Committee On Revenue, House Committee On Housing, Joint Committee On Information Management and Technology, and Joint Committee On Tax Expenditures. Prior to joining the Oregon Legislature, Pam served the City of Ashland as a City Councilor for four years, and as a member and chair of the city Planning Commission and a member of the Ashland Charter Review Committee. From 2006-2012 Pam worked as Deputy Director of a local nonprofit providing drug and alcohol prevention and treatment.  She served as Executive Director of Ashland Emergency Food Bank from 2012 until December 2016. Pam ran for the Legislature because she knows from firsthand experience that government matters. Thoughtful, targeted and leveraged policies are necessary to protect our most vulnerable residents, lift our families, and assist residents as they create healthy, self-sustaining communities.
Cass Sinclair has an MBA and an undergraduate degree in Human Communication. While an undergraduate, Cass was the Assistant Producer of the One World Performing Arts Series at Southern Oregon University. Upon graduation, Cass was hired as a Cardiovascular Sales Specialist for AstraZeneca Pharmaceuticals and was promoted to President's Circle for performing in the top 1% of the sales force. From AstraZeneca, Cass went to American Cancer Society as a Quality-of-Life Specialist directing programs and services in five counties. Prior to coming to OHRA, Cass served Jackson County Public Health as a Community Outreach Educator and Syringe Exchange Program Coordinator, in HIV Prevention, Disease Prevention, and harm-reduction. In 2019, Cass was hired by OHRA as the Winter Shelter Director, was promoted to Senior Director of Program Services overseeing the Shelter, the OHRA Community Resource Center, and the Laundry Shower Trailer programs. In May, 2021, Cass was promoted the Executive Director of OHRA.
Dennis Slattery is the Board President of OHRA in Ashland, OR (Opportunities for Housing, Resources, & Assistance.) He has lived in Ashland since 1977. He has had three careers during that time, first in the hotel business, then as a CPA and finally as an educator at SOU. Dennis has an undergraduate degree and an MBA  from SOU. Dennis has served on numerous community boards including the Ashland Chamber of Commerce, the inaugural  SOU Board of Trustees, and the Ashland City Council for two terms. Raised in the Bush of Alaska among the Native People, Dennis has a deep appreciation for communities helping each other and finding effective solutions to take care of those most impacted. Dennis is married to his best friend, Sandra, and together they enjoy being involved in many different paths of service to the community.
Sat, Feb. 3, 2024 • Ashland Hills Hotel

$25 Includes Lunch • Reserve Your Seat Now!
SEE ALSO

:

The Southern Oregon
Human

Trafficking Disruptors Summit


Fri-Sat, March 22-23


Presented by ANP Conference




And Ride My Road

LEARN MORE

Get Updates. Easy Unsubscribe. List is Never Shared.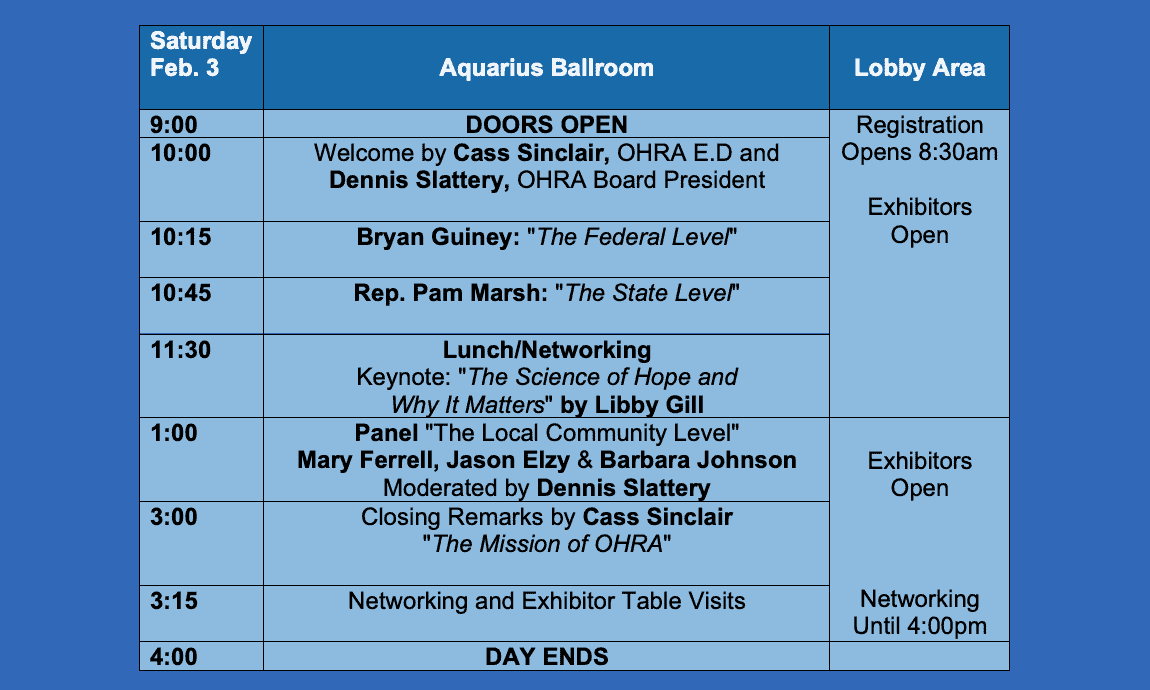 VENUE/HOTEL
2525 Ashland St. / Hwy. 66, Ashland, OR
I-5 Exit 14 • GOOGLE MAP • (855) 482-8310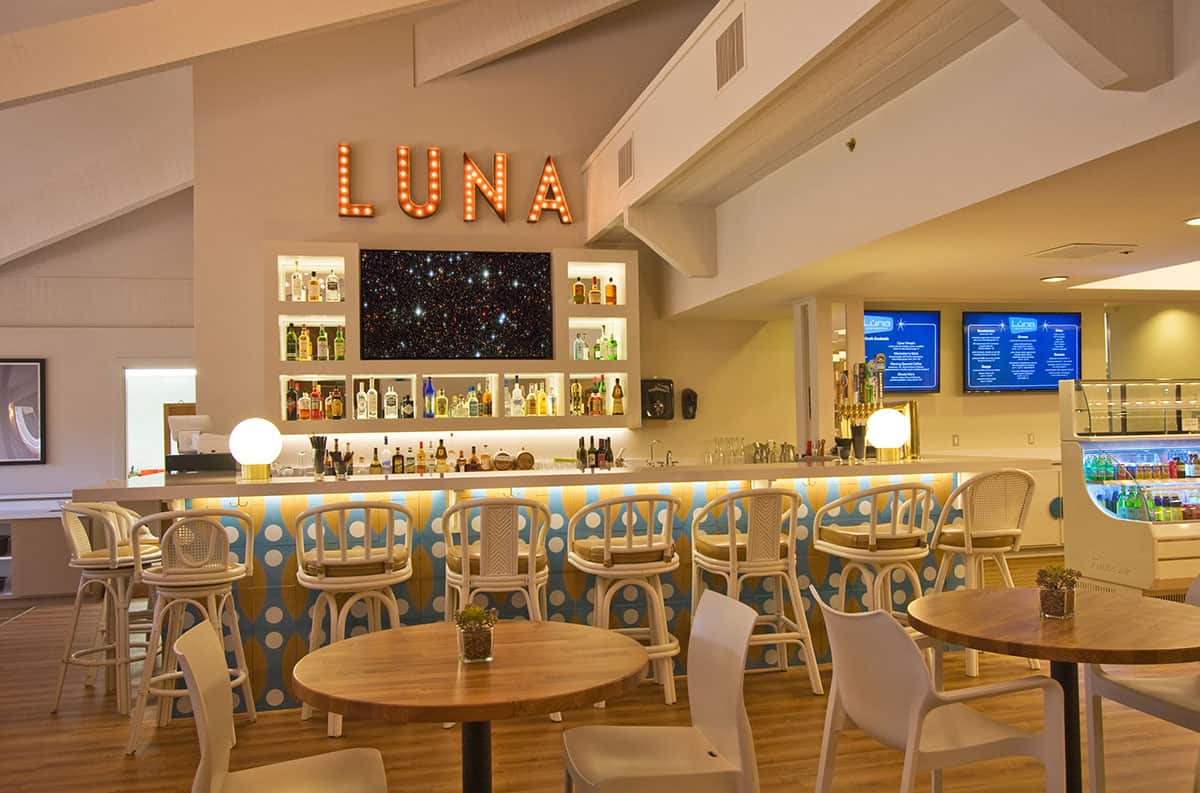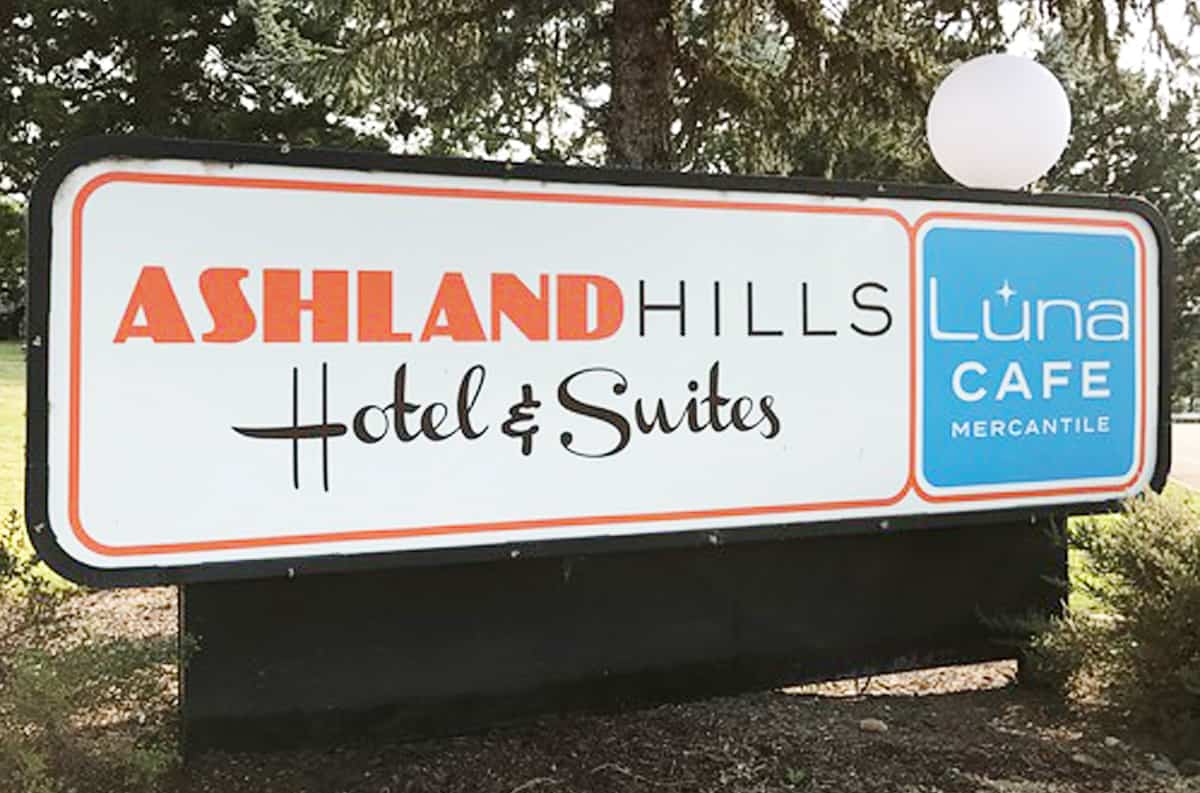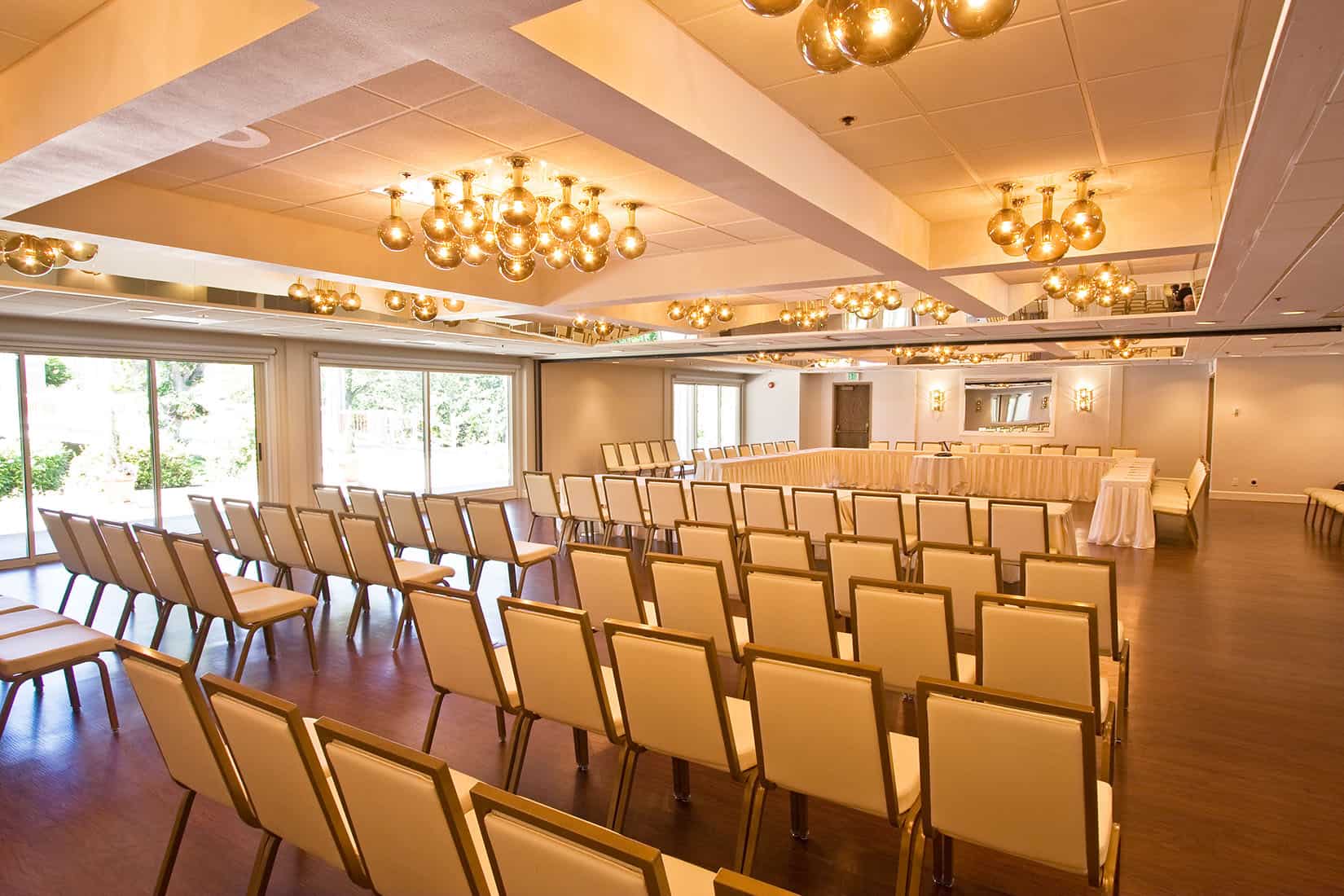 Saturday, Feb. 3, 2024, 10am – 4pm • Ashland, Oregon
$25 Early Registration • Includes Lunch • Reserve Your Seat Now! 
Presented by:

Architects of the New Paradigm Conference Series, RVML Community Resource Center,

and

OHRA; Opportunities for Housing, Resources & Assistance

in collaboration with the

Housing Authority of Jackson County.
THANK YOU SPONSORS, PARTNERS AND SUPPORTERS!
ABOUT THE ANP CONFERENCE SERIES



Since 2015, the Architects of the New Paradigm Conference Series brings together some of the most accomplished leading visionaries, thinkers, and activists to explore fresh approaches to the world's critical challenges. The format of the events engages participants in a blinders-off approach to the true scope and depth of the problems, combined with innovative and practical solutions.
READ MORE • WATCH RECORDINGS